Merlin Can Help
Zero trust is an integral part of the federal government's strategy to strengthen cybersecurity in the face of increasingly persistent and resourceful attackers. But zero trust isn't achieved through just one technology or tool. Instead, it's a blend of solutions that work together to enable zero trust architecture (ZTA). At Merlin, we believe that successful ZTA follows five core tenets:
Identity as a perimeter
Least privilege
Intrinsic workload security
Micro-segmentation
Integration and automation
No matter where your agency may be in its journey to achieving full zero trust maturity, we can equip you with the right integrated solutions at the pace and scope you need and desire. Our portfolio of best-in-class and emerging technologies will secure every layer of your IT stack—from endpoints, applications, and the network to data and users—all in alignment with zero trust.
2022 State of Federal Zero Trust Maturity
Merlin Cyber commissioned a study with MeriTalk, which surveyed U.S. Federal Civilian and DoD agency security leaders to learn more about their evolution to ZTA. Our report, "Zeroing In: 2022 State of Federal Zero Trust Maturity," provides insights from more than 150 cybersecurity decision-makers on:
Agency priorities, momentum, and challenges along the journey to implementing zero trust
Feasibility of achieving each of the five core pillars of ZTA
Differences between civilian and DoD agencies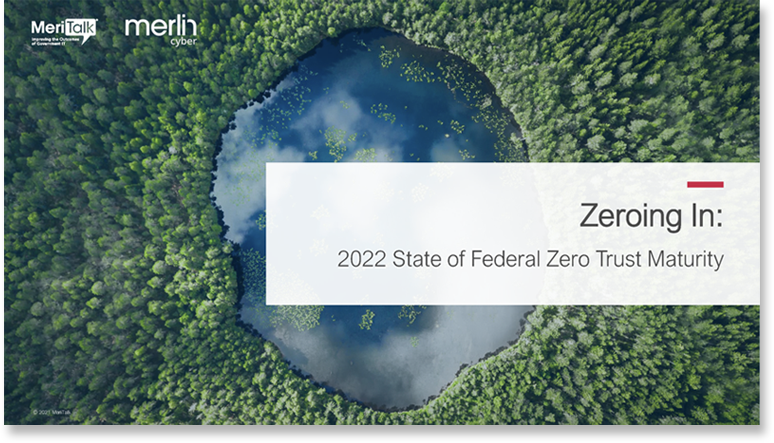 There is power in strong partnerships.
Learn more about our best-in-class and emerging cybersecurity partners for Zero Trust.
Request a demo of our Zero Trust solutions.